Volunteers working for our environment
Coochiemudlo Island Coastcare is a group of local volunteers working together to preserve our unique natural environment and diverse ecosystems for future generations.
We're part of the national network of Coastcare organisations around Australia, identifying local environmental issues and seeking practical solutions.
We tackle problems like shoreline erosion, plastic pollution and turtle death, loss of native flora and fauna, rehabilitation of degraded areas, storm-water pollution and protection of sensitive habitats.
You'll find us picking-up litter around the foreshore, replanting beach spinifex and re-profiling dunes, restoring native habitat, monitoring wildlife and removing invasive weeds. Time is also spent working with all levels of government, Traditional Owners, Quandamooka and other agencies to protect and enhance our island home.
Background
Coochiemudlo Island Coastcare Inc was formed at a meeting of 13 people on 13 January 2013. Two weeks later the island was struck by a storm surge from ex-Tropical Cyclone Oswald wiping out almost a kilometre of shoreline, exposing our fragile Ramsar-listed Melaleuca Wetlands, uprooting trees, destroying infrastructure and threatening the island economy.
Our fledgling organisation reached out to state and federal governments and the community rallied. Under a rescue package devised by SEQ Catchments utilising federal funds and support from WetlandCare Australia, Coastcare formed a collaborative partnership with Redland City Council to undertake restoration works.
For six weeks a team of contractors scraped sand, re-instated fallen trees and built new access paths before Coastcare volunteers planted over 6,500 native trees, grasses and shrubs.
Tending these restored foreshores is where most of our time is spent today.
Our Island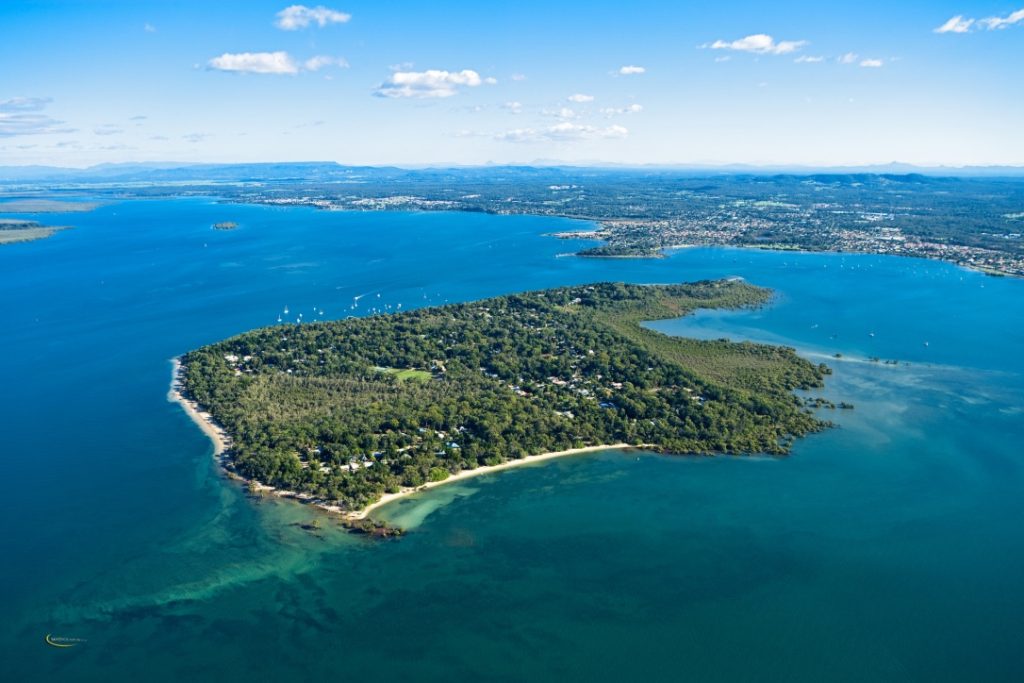 It can be easy to overlook when studying a map of Moreton Bay as Coochiemudlo Island (Goochie mudlo) is only 130 hectares of land, a stones throw or 10 minute ferry ride from Victoria Point. It's deceptive when approaching by boat as the island appears almost uninhabitated because of a heavily vegetated Conservation foreshore which shrouds development.
Known affectionately as "Coochie", the island boasts the closest sandy bush beaches to Brisbane, magnificent stands of trees in a number of ecological zones, rich diversity of birdlife, European historical sites and obvious connections to an Aboriginal past.
It's claimed the island attracts more visitors than Moreton Island and is second only to North Stradbroke when it comes to tourism in the Bay. The very features which attract are now endangered by a burgeoning population.
Coochiemudlo Island Coastcare Objectives
1. To value, protect and enhance the natural island environment, particularly coastal and marine areas and promote best management practice.
2. To engender in the local community a sense of stewardship of the island's natural environment.
3. To foster co-operation between stakeholders wherever action is required to rehabilitate degraded habitats and undertake joint projects when needed.
4. To conduct regular meetings where normal business of the Association will be transacted as well as films, local and visiting lecturers utilised and other activities associated with the development of these objects conducted
5. To promote the preservation of flora, fauna, geological and geographical features, environmental and habitat units by all lawful means including but not by way of limitation, the following –
5.1 Encourage an understanding of the principles of Coastcare, Conservation, Biodiversity, Sustainable Resource Use and Preservation of the Environment.
5.2 By discouraging threatening processes to, or the wanton destruction of any such Flora, Fauna, Geological or Geographical features and particularly those sites known to have sacred or Cultural significance for Aboriginal people.
5.3 By supporting Management Plans and Agreements that are consistent with the Association's objectives.
5.4 By accepting affiliation from, or co-operating with any society or Corporation in Australia or elsewhere for the furtherance of the foregoing objects.
6. To co-operate with Local Government departments and others to ensure they are aware of environmental concerns before making major planning decisions that could affect the island.
7. To seek Government funding and corporate sponsorship to finance the publication and distribution of such information to interested parties.
8. To make submissions on Coastcare matters and to take action to ensure environmentally appropriate decisions are made.
9. To publish information regularly to keep members informed of the Association's activities and future events.
10. By all such other acts or things as are incidental or conducive to the attainment of the above objectives.
The National Coastcare Programme
Coastcare is, in many ways, an extension of the Landcare movement, but focusing on the coast.
It is a community volunteer group made up of everyday Australians who care passionately about the protection and management of our coastal and marine environments.
Thousands of volunteers from across the country form more than 500 Coastcare groups and, alongside their Landcare peers (over 4,900 groups), put into action long-term, practical solutions in their local areas to look after and improve our natural resources.
Young and old, Coastcarers address issues like dune erosion, loss of native coastal plants and animals, storm water pollution, weeds and control of human access to sensitive and vulnerable areas.
How did Coastcare come about?
In the early 1990s, the Australian Government's Resource Assessment Commission undertook an inquiry into the management and use of the resources of Australia's coastal zone. It was one of the most comprehensive investigations ever undertaken into the coastal zone. One of the recommendations of the Commission was that a national coastal action programme should be established involving all governments, community and industry groups with responsibility for, and interests in, the management of coastal zone resources.
In 1995 the initial Coastcare programme was established by the Australian Government, and in 1997 the Coastcare programme was rolled into the Australian Governments' Natural Heritage Trust Clean Sea Programme.