Our pets and our wildlife
By Lois Toop (Coochie Resident and Island Carer, May 2017)
Meet Millie and Pipi.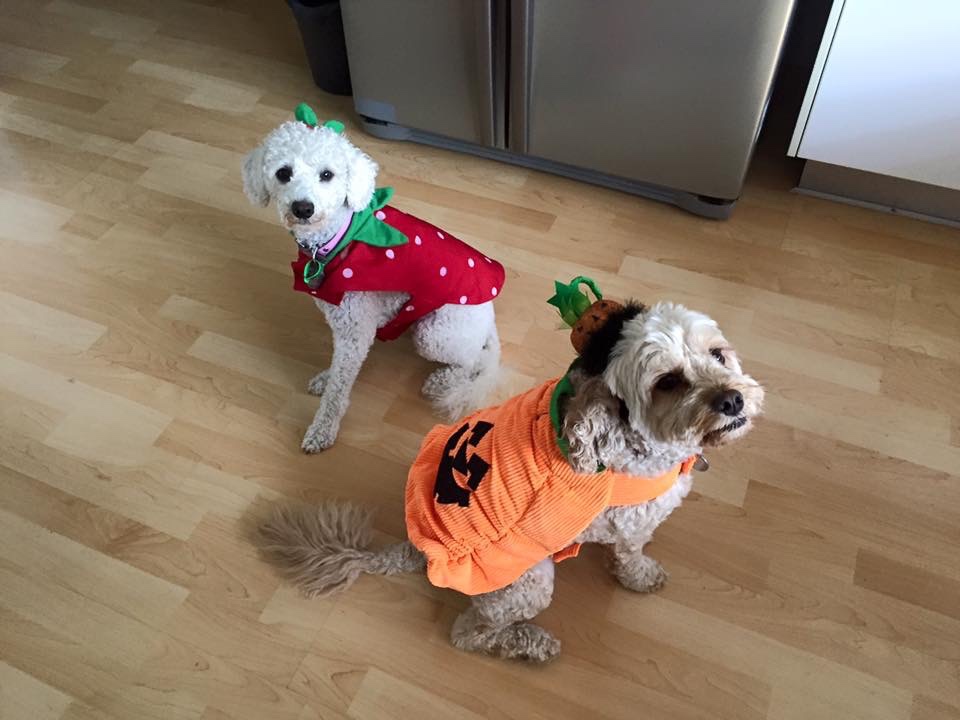 They are our crazy dogs and we love them.  Before moving to Coochiemudo Island, we had an incredibly busy lifestyle and a dog walk was something that happened roughly twice a year.  Now that we're island residents and our regime isn't quite so hectic, we walk the dogs twice a day, every day – rain , hail or shine.  And yes, they do have raincoats!
When we first arrived (in December 2014), we found the dog signage a little confusing.  We saw many dog owners and their pets on the beach, which to us, confirmed we were not doing anything wrong by taking our dogs there too.  One day we were talking with another resident about the signs and found out that we weren't allowed to take the dogs on the beaches (except for Main Beach – the area west of the barge ramp – and only at certain times).  Looking at the Redland City Council website later on confirmed this.
We live close to Norfolk beach, so it was very convenient for us to take the dogs there and I can't think of anything nicer than walking on the beach with them and seeing them race through the shallow water or swim.   For us though, we weren't upset by the rules.  We were philosophical about it.   But we chose to live here and if we want the dogs on the beach or in the water, west of the barge ramp is our only option.
However, learning about why dogs aren't allowed on the beaches gave us an additional sensitivity to and responsibility for our beautiful environment here on Coochie.  Declining migratory bird numbers are a result of four factors (Commonwealth of Australia, 2015); Habitat loss, habitat degradation, direct mortality and disturbance.  The last two can be brought about by dogs.
Even though we could take our dogs on the beach near the boat ramp, we made the decision as a family that we would not do that either.  Our dogs are great, but we couldn't trust them not to chase a bird on the beach (or anything else for that matter).  You might think that just chasing a bird is harmless, but the migratory birds that fly thousands of kilometres from the Arctic to the Moreton Bay Marine Park, are so tired, that the simple act of being chased can mean the end of the bird's life.  According to Associate Professor Richard Fuller from the University of Queensland (Stigner, 2016), the problem is not just that the dogs might kill a bird on the beach, but they are excitable and chasing the birds when they need to forage and rebuild their strength to return for the Arctic summer, means that they have insufficient energy reserves to make it home.
Of course it's our family's personal choice not to let our dogs on the beach at all and we don't expect other dog owners to do the same, but we would encourage everyone to at least follow the rules put in place by Council (you'll find them below).  Restricted use of the off-leash area on Main Beach is set around the migratory bird calendar (RCC, n.d.).  We all love our dogs and we love the beach.  Experiencing nature benefits our health and wellbeing, but we also need to give nature space to thrive.  Sticking to the off-leash area timetable and reminding friends, family and visitors with dogs to do the same, will at least help to give these birds a fighting chance.
See you all out and about.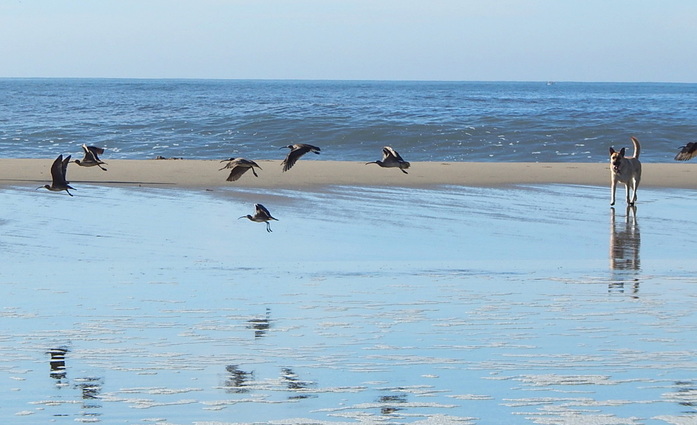 Photo: 'Dogs chase birds' – LLASCC
Caring for our pets and protecting our native wildlife
Around 70 per cent of Australian households have one or more pets.  On Coochiemudlo Island, there are over 170 registered dogs alone.  We value our companion animals. Our unique native animals are also widely valued.  The health of our environment relies on the harmonious inter-relationship of all species within a given habitat. With good pet management and public awareness, the needs of domestic and native animals can both be met.
The following is an extract from "Protecting our Wildlife: Responsible pet ownership" (Department of Environment and Heritage Protection, 2004).
The impact of domestic pets on native wildlife
A wide variety of native animals, ranging from the more common species like wallabies, lizards and many species of bird, to rarer or threatened species such as bandicoots and migratory shore birds are at risk from domestic pets on the island.
For example, unchecked, dogs harass and even kill native animals as they move in search of food and shelter. Cats are by nature instinctive hunters and are more likely to kill birds and lizards. Even though their human owners carefully meet their pet's requirements for food and shelter, instinctive hunting and chasing behaviour will continue.
Even though each individual, unharnessed animal may only kill or injure a small number of native animals, it may have a bigger effect on already reduced populations.
Responsible ownership is the key
Responsible pet ownership allows you to enjoy the presence of native birds and animals in your surroundings as well as your pet.  However, poor management of domestic animals can impact severely on animal welfare and the environment.
The responsibility for managing domestic animals rests with their owners. By encouraging responsible pet ownership in your family and neighbourhood you can ensure the welfare of all animals.The following is an extract from "About dogs and cats" (Redland City Council, n.d.)
Basic compliance
As a pet owner in the Redlands you are required to comply with the Queensland Government Animal Management (Cats and Dogs) Act 2008 and Council's Local Law 2 – Animal Management (2015) by ensuring you:
register your dog or cat at 12 weeks of age
microchip your dog or cat before they reach 12 weeks of age (but not before they reach 8 weeks of age)
keep no more than 2 dogs or 2 cats on any property. A third dog or cat permit is available where compassionate grounds exist for granting the approval, however, you will need to apply for a Third Animal Permit
keep your dog or cat in your property
keep current registration tags attached to your dog's collar at all times
keep your dog's barking to a minimum
walk your dog on a lead, except in designated off-leash areas
carry a bag or container and pick up your dog's droppings when in a public place. On-the-spot fines apply
prevent your dog from attacking or frightening people or animals.
The following is an extract from "Protecting our Wildlife: Responsible pet ownership" (Department of Environment and Heritage Protection, 2004)
What is responsible ownership of pets?
The responsible ownerships of pets means the following:
Helping to reduce unwanted animals, many of which become strays and cause great damage to native animals. If you can no longer look after your pet, take time to find them a happy new home, or take them to the RSPCA. Report suspected neglect and cruelty of uncontrolled animals.
Following the signs and don't release animals into the bush or reserves.
Providing a proper enclosure and preventing your animal/s from wandering.
Dogs, in particular, disturb shorebirds when on beaches, so ensure that dogs are kept under control. Put dogs on leashes at all times where native animals are likely to be vulnerable.  Don't take dogs onto the beaches (except where allowed).  Keep your dog confined in the backyard, particularly when you are not there.
Keep cats inside. Even well fed cats roaming at night hunt and kill possums and other small native mammals while birds are often targets at dawn and dusk when they are most active. It will also protect the cat from fights and possible infection and disease, and reduces the risk of your cat being run over.
The following is an extract from "Using dog parks and off-leash areas" (Redland City Council, n.d.)
Using Coochie's dog off-leash area
Dog off-leash areas are places where dogs can run free. When using these areas, you also need to:
control your dog – your dog must return to you when called
clean up after your dog and dispose of waste
check signage and make sure you're within off-leash boundaries
supervise children in the area (particularly if they don't have effective control over their dog)
make sure your dog does not chase birds and wildlife
respect other users and neighbouring residents
use the off-leash area during approved opening hours only
put your dog back on the leash when leaving an off-leash area.
Children and owners who can't control their dog should not use unfenced areas.
Dog owners caught with their dogs off-leash outside of the designated off-leash areas will receive an on-the-spot fine under Council's Local Law 2 – Animal Management (2015).
Off-leash areas with shared hours
In this area, dogs may only be off-leash during the calendar months and times stated below. This calendar coincides with the departure and arrival patterns of migratory birds.
Shared hours calendar – Main Beach off-leash area (Redland City Council)
Redland City Council indicates that the on/off-leash times for the area west of the barge ramp are as follows:
January-February |

Restricted hours

Dogs may be off-leash from 5pm until 9am the next day. Dogs must play between the signs.

March-April |

On-leash

All dogs must be on-leash at all times.

May-August |

Off-leash

Dogs may be off-leash at any time. Dogs must play between the signs.

September-October |

On-leash

All dogs must be on-leash at all times.

November-December |

Restricted hours

Dogs may be off-leash from 5pm until 9am the next day. Dogs must play between the signs.