New phase of Environmentally Friendly Moorings Program launched on Moreton Bay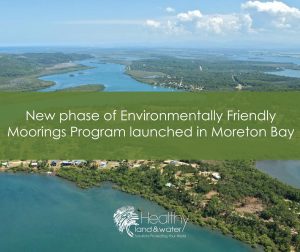 Expressions of interest sought from Coochiemudlo boat-owners
Local boat-owners can help make Coochiemudlo one of the first mooring sites in Australia to be completely environmentally-friendly with actively recovering seagrass by taking up a free offer to replace traditional moorings.
The island has previously seen 37 Environmentally Friendly Moorings (EFMs) installed with only 15 sites left to be replaced.
Healthy Land and Water (HLW) is currently seeking expressions of interest from local boaties to finalise the program supported by the Queensland Recreational Boating Council, Quandamooka Yoolooburrabee Corporation and the Queensland Government, as the island has been declared a priority area.
HLW is able to replace (supply and install) your existing block and tackle mooring with an EFM at no cost.
http://hlw.org.au/project/environmentally-friendly-moorings/
If you'd like to participate in this free program please register your interest with Rachael Nasplezes email [email protected]or phone 0459213477. If there's enough local interest Healthy Land & Water will organise an information workshop on-island.